Gymnastics Coloring Pages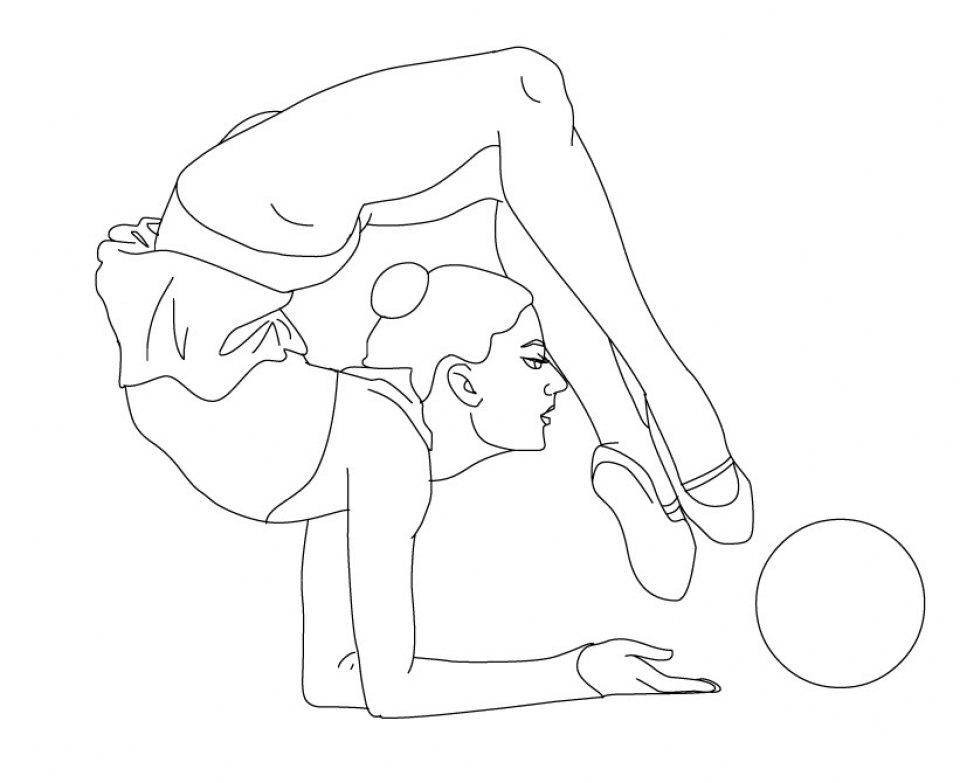 I never get how gymnastics athletes can have a body so flexible that it looks totally unreal to me. Seriously, they can bend and twist their body in the weirdest way possible. Moreover, they can move as if they had no weight, much like a feather. I really can't tell what they're going through with each of their training session. Does the coach purposely bend them in all directions like a rubber doll? Man, that gives me the creeps. Anywa, I'm glad, though, that United States is getting better at Gymnastics. We can finally catch up with China after so many years staying behind them. Today, it's not only Chinese gymnastics athletes that can perform crazy stunt on the mats.
Anyway, if you're trying to motivate your little daughter, or maybe you boy to be more serious on her gymnastics training, you may wan to get these gymnastics coloring pages. In terms of difficulty, most of these gymnastics coloring pages are appropriate for young children. They're easy enough to color and feature many different images of popular moves in gymnastics. There is that awesome perfect leg split, the one where the athlete swing forward and backward using two rings, and the one with hula hoop and ribbon. These gymnastics may be printed for free but be sure remember to keep them for personal and educational purpose only.
Also Check: Ben 10 Coloring Pages
Gymnastics Coloring Pages
Fun Facts about Gymnastics
In the late eighteenth and early nineteenth centuries two pioneer physical educators, Johann Friedrich GutsMuth and Friedrich Ludwig Jahn created exercises for boys and young men on several apparatus they had designed. Friedrich Jahn became known as the "father of gymnastics". He designed and introduced the horizontal bar, parallel bars, balance beam, side horse with pommels, ladder, and vaulting horse.
Artistic gymnastics is usually divided into Men's and Women's Gymnastics. Men compete on six events: Floor Exercise, Pommel Horse, Still Rings, Vault, Parallel Bars, and High Bar, while women compete on four: Vault, Uneven Bars, Balance Beam and Floor Exercise.
The Ancient Greeks practiced gymnastics as a way to prepare for war. Activities like running and jumping, along with throwing a discus and wrestling were used to prepare the young Greek men.
The first Greek athletes trained and competed without single clothing. The Greek word gymnazo actually means to train n4ked. The word gymnastics also has roots in Latin; the Latin phrase gymnasticus means fond of or skilled in bodily exercise. Gymnastics in Ancient Greece resembled what we commonly call track and field, featuring running and jumping, as well as swimming.
Difficult gymnastics moves are often names after exceptional gymnasts. Three separate gymnastics moves are named after Kelly Garrison including the 'Super E'.
NASA scientists have discovered that jumping on a trampoline is up to 68% more effective exercise than jogging. It burns about 410 calories an hour.
Gymnastic uniforms are made up of a leotard which is form-fitting, comfortable and provide ease of movement. Leotard is named after a French acrobat who lived from 1842 until 1870. His name was Jules Leotard. He made the uniform popular but did not invent it.
The Soviet Union holds 184 Olympic Medals in gymnastics. This includes both men's and women's competitions since 1896. The United States has the second most Olympic medals in gymnastics, with 101.
#barbie gymnastics coloring pages#dora gymnastics coloring pages#gymnastics bars coloring pages#olympic gymnastics coloring pages#rhythmic gymnastics coloring pages