Octonauts Coloring Pages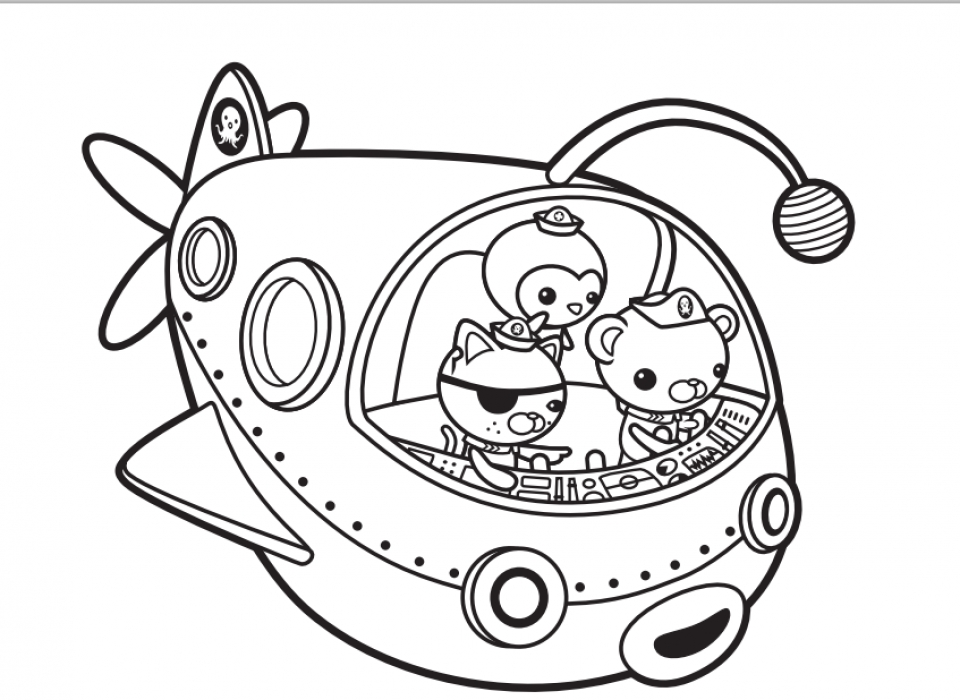 The deep sea ecosystem is pretty much like another planet. It's strange and cold, and dark. Animals of weird appearance and colossal size, blue whale and giant squid for example, live in there. Probably that's what inspired Vicky Wong and Michael C. Murphy to create The Octonauts. It's a TV series broadcasted by Disney Junior, just like Sofia the First. It tells a story of a team of undersea explorers whose everyday jobs is protecting the sea. That includes exploring new underwater worlds and rescuing amazing sea creature that is in trouble. The team consist of many anthropomorphic animals. The leader is Captain Barnacles the bear. He's helped by some crew mates, namely Kwazii the kitten, Peso the penguin, Dr. Shellington the sea otter, Dashi the dog, Tweak the bunny, Professor Inkling the octopus and Tunip the `vegimal' (part vegetable, part animal). Their home base is called Octopod. They're pretty much the water version of Paw Patrol.
Anyway, The Octonauts is a trending kids show right now. If your kid watch and follow their stories, you might want to get some of these cute Octonauts coloring pages. As you can see for yourself, there are quite a few of them. You can see Captain Barnacles the bear leading his closest friends and teammates Kwazii the kitten and Peso the penguin on a rescue mission in the deep ocean. Their submarine looks like an angler fish, thanks to the big light bulb that hangs on the front window. Angler fish is a deep water fish that nearly catch Dory and Marlin (Finding Nemo) with its toothy mouth. Real scary fish! Back to The Octonauts, you can also see Professor Inkling the octopus trying to cook something using his vast knowledge. All in all, these cute Octonauts coloring pages would certainly make your kids happy. Have fun!
Also Check: Turkey Coloring Pages
Octonauts Coloring Pages
#coloring pages of octonauts#octonauts coloring pages#octonauts coloring pages free#octonauts coloring pages online#octonauts coloring pages printable