Rainbow Fish Coloring Pages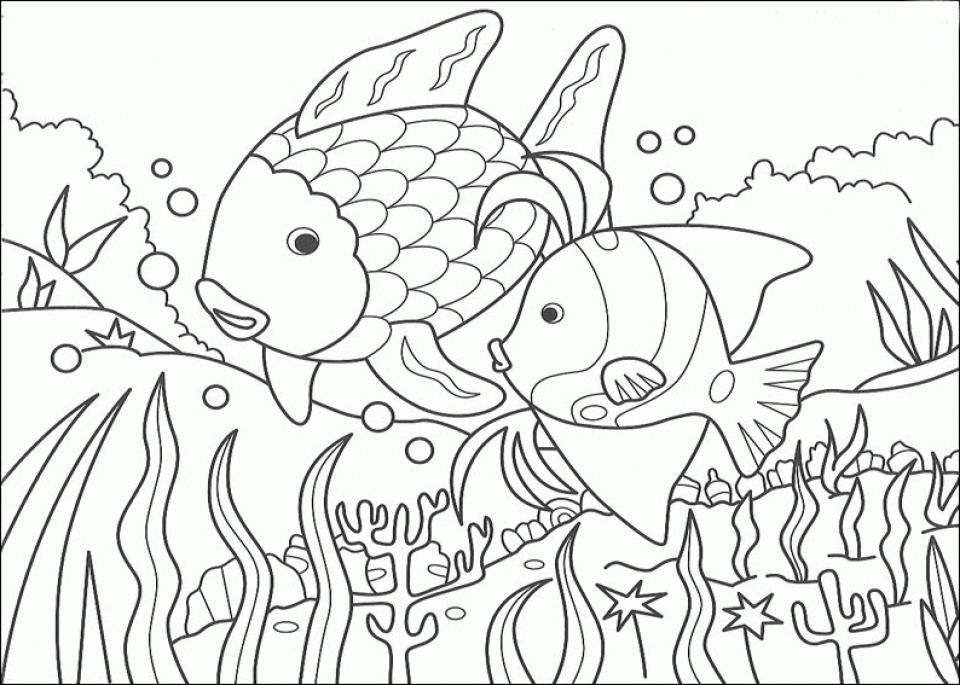 I thought Rainbow Fish is a real life animal. As it turns out, it's a fictional one. The fish is a main character in a children's book written by classic Swiss author Marcus Pfister entitled "The Rainbow Fish". This book was so popular at its time that it made it stateside after getting translated by J. Alison James. Among the main reason it got so popular among parents and kids is because it teaches valuable moral lessons to children and the fish itself appears beautiful with colorful shiny foil scales. Like many other popular children's book, Rainbow Fish eventually got adapted to an animated series. It was broadcasted in the United States through HBO Family channel for two years staright, from 1999-2001.
Anyway, if you've bee looking for some Rainbow Fish coloring pages, you can find numerous of them in this post. You can choose between the single printable image of Rainbow Fish or those that shows him when he was exploring the ocean with his companies. In case you forget what the color of the original Rainbow Fish is, well mostly it's dominated with blue. Some of its scales are violet and purple and some of them are silver and light blue. The fins have gradation color from violet, light blue, and silver. Meanwhile, its face is all blue. If you find my explanation difficult to follow, there is one printable where you can color the Rainbow Fish using number guide. Or, you can check it out in this Wikipedia page. Either way, hope your kids can have fun with these Rainbow Fish coloring pages.
Also Check: Lightning McQueen Coloring Pages
Rainbow Fish Coloring Pages
#free rainbow fish coloring sheets#rainbow fish coloring page template#rainbow fish coloring pages free#rainbow fish coloring pages preschoolers#rainbow fish story coloring pages